EDIT: 5/16/10: I WILL NO LONGER UPDATE THIS. GO TO BULBAPEDIA OR SEREBII FOR NEW INFO.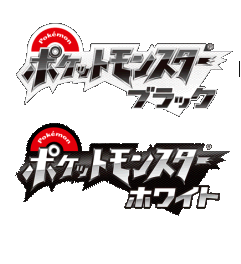 Not much information is known on the upcoming Pokemon Black (ポケットモンスター ブラック) and Pokemon White (ポケットモンスター ホワイト). All we know is that it's the Genoration 5 games of Pokemon and it hits the Nintendo DS, DSi, and DSiXL systems in Japan this fall/autumn.
More info will come soon with CoroCoro and Pokemon Sunday coming up.
EDIT 4/9/10: Just been informed that there is a site with a video (No gameplay footage), and that it has more things than Pokemon HeartGold (ポケット モンスター ハート ゴールド) and Pokemon SoulSilver (ポケット モンスター魂銀)
Offical Japanese Website: http://www.pokemon.co.jp/bw/index.html
EDIT 4/10/10: We have pictures, showing the new male and female heros.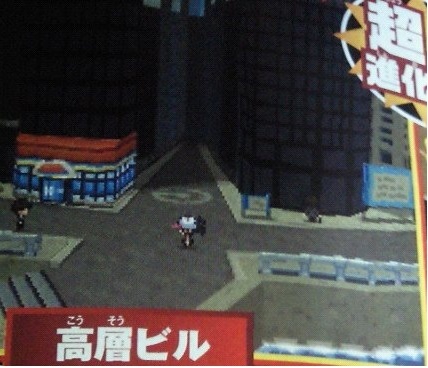 CoroCoro wasn't really for new info, just picture. As you see, this game will be in 3D, a big step from Diamond and Pearl. That red building is either a Pokemon Centre or a Gym.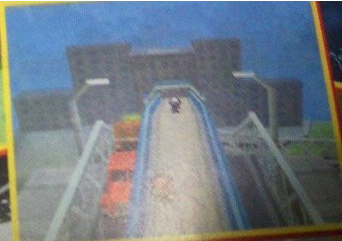 You can see the hero rideing a bike(?) over a bridge, with alot of cars. Trvivia: This is the second Pokemon game to have cars, the first was Red, Green, Blue, and Yellow.
This shows the new male hero in a cave.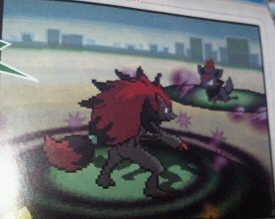 This is the best pre-release picture ever, showing a battle , Zorua vs. Zoroark. This shows Zorua's front sprite, and this shows Zoroarks FULL back sprite.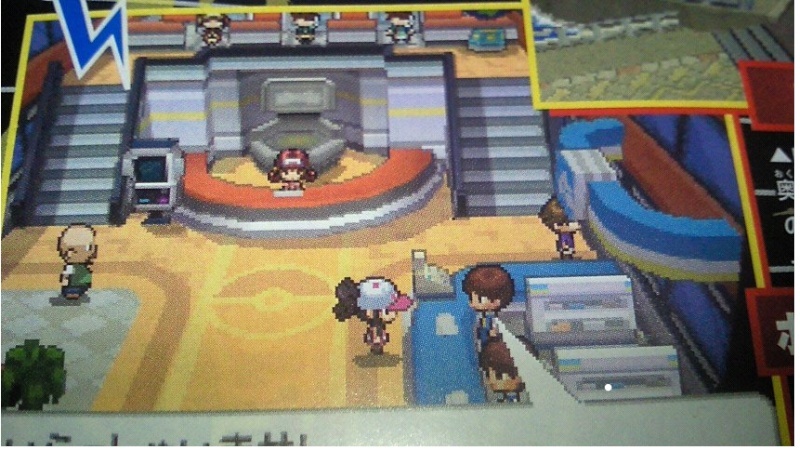 This shows the Pokemon Centre is with the Pokemon Mart.
Lastly, this is the strating town.
More info should come within a few hours, with Pokemon Sunday coming up.
EDIT (4/10/10): Pokemon Sunday aired, but there was no new info revealed. Must wait til next week.
EDIT: 4/17/10: The Shiny Legendary Beasts pre-order tickets were released today. They do unlock something in Black and White, but is currently unknown. Filb.de has a video!
EDIT: 5/1/10: It has just been brought to my attention, that Pokemon Sunday has announced that Baba will announce that he lost his Rayquaza and he has obtained a new Pokemon. So far, we don't know if this is a 5th Gen Pokemon, but next weeks title is
Baba Takes On Battle Practice! And New Pokemon - XX
, so we believe that it's a new 5th Gen Pokemon, but it will more than likely be a silloutete, but still, at this point, any new news, is good news. We will have more information as soon as it comes!
EDIT 5-7-10: A new episode of Pokemon Sunday that will air 5-16-10 will release new info about the new starters in Black and White.
EDIT: 5-8-10: The starters' silouettes have been revealed! Take a look!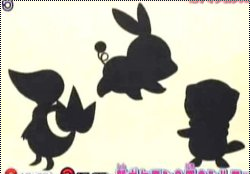 Edit - 5-12-10: We have new info, pictures, and more!
The new Starters!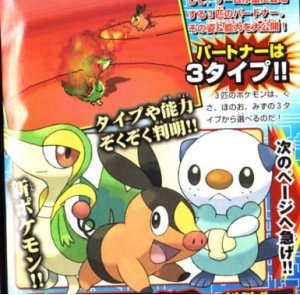 The new Male and Female Trainer Artwork
INFO:
A scan from the June 2010 issue of the magazine CoroCoro has appeared online, revealing various information on the upcoming games Pokémon Black and White.
According to the scan, the first Generation V games will be set in the region known as 「イッシュ」 Isshu, which is quite a distance away from all previous regions. The magazine scan implies that the region is a foreign place that must be traveled to by boat or airplane. Legendary Pokémon reports that a new location titled 「ヒウンシティ」Hiun City will possibly be in the games, though this has yet to be confirmed via scan.
The new playable characters are also presented. They are stated to be more grown-up than past protagonists, and both are wearing devices on their wrists that may be the successor of the Pokégear, PokéNav and Pokétch.
Finally, the scan also shows the starters of Pokémon Black and White; as in previous generations, the starters are Grass-, Fire-, and Water-type. The starters' names have yet to surface in a scan, though PokéBeach reports that they are possibly 「ツタージャ」 Tsutaaja, 「ポカブ」 Pokabu, and 「ミジュマル」 Mijumaru, though these have yet to be confirmed.
Update : Further information has come in, with updated information about Zoroark. Zoroark has a new method of catching. It appears that it will appear when one of the three legendary beasts from the thirteenth movie giveaways is transferred to Black and White. Additionally, it has a new ability, 「イリュージョン」 Illusion, and two new moves 「イカサマ」 Trickery and 「つめとぎ」 Claw Sharpen. Again, this is unconfirmed by official sources.